Educators in Union Parish and The Future of Education in America are two short documentary films produced under the Open Eye Film label in association with the Fall 2018 exhibition "School Days in Union Parish" held at The Union Museum of History and Art in Farmerville, Louisiana.
Educators in Union Parish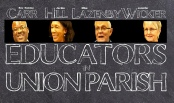 In this 45 minute documentary film four experienced educators, school administrators and guardians share their recollections of school life and speak candidly on a variety of important topics including:
Their formative influences, career development, changes in the culture of education, integration of the dual schooling system, technological innovations and perceived opportunities and impediments to educational development.
Thank you to the expert interviewees: Mike Lazenby, Jennifer Wicker, the Rev. Tommy Carr and Jackie Hill for their interesting insights. Also I'd like to thank Jean Jones and Jennifer Wicker for their roles as interviewers for the filming.
The "School Days" exhibit ran from Oct. 17 through Nov. 29 2018.
Filmed on Panasonic Lumix cameras and edited with Cyberlink PowerDirector 16 on Windows.
For updates on the museum's activities please see their website
The Future of Education In America
This was our first panel discussion show and it is a very interesting insight into the future of education in the USA. The panelists talk about a range of topics including the role of athletics in schools, the future of technology in the classroom and school security
There's also a Q&A session open to the floor with comments and questions put to the panel.